On Sunday 18 April 2010
Brooklands Museum will host The Spring Motorcycle Gathering.
Come and celebrate the anniversary of the first motorcycle race held at the historic motor racing circuit in April 1908.

A specially invited entry of machines with genuine Brooklands history and some historic record-breakers will be on display in the paddock and demonstrated on the famous test hill and Members' Banking. One make Club area Trade stands Push-bike challenge.
was raced at Brooklands by Pat Driscoll.
Bert Denley on the motorcycle and sidecar
Pat Driscoll acquired in 1929 the machine when Nigel Spring and Bert Denly moved to AJS. Pat used it until he was forced to give up racing by the Austin works team who considered it to be too dangerous. Although Driscoll achieved over 200 firsts in nine years of competition his main interest was in Record attempts and long distance racing. He became one of the outstanding tuner-riders of Norton in the 1920s and 30s and was a contracted Norton works rider. In 1930 he was awarded the British Motor Cycle Racing Club 'Gold Star' for lapping the Track at over 100 miles per hour.

Although Pat Driscoll preferred to use the Webb Heavyweight forks at Brooklands the machine is fitted with Druid ES forks. He won at least one sidecar race in 1931 using these forks as his sponsor, Bill Lacey, was contracted to use Druids. Most of the pictures show the original sprint tank but for long distance races the tank developed for the 1926 TT was used.
opnamen van een eerder jaar...
2007
John & Rob waren er afgelopen weekend bij.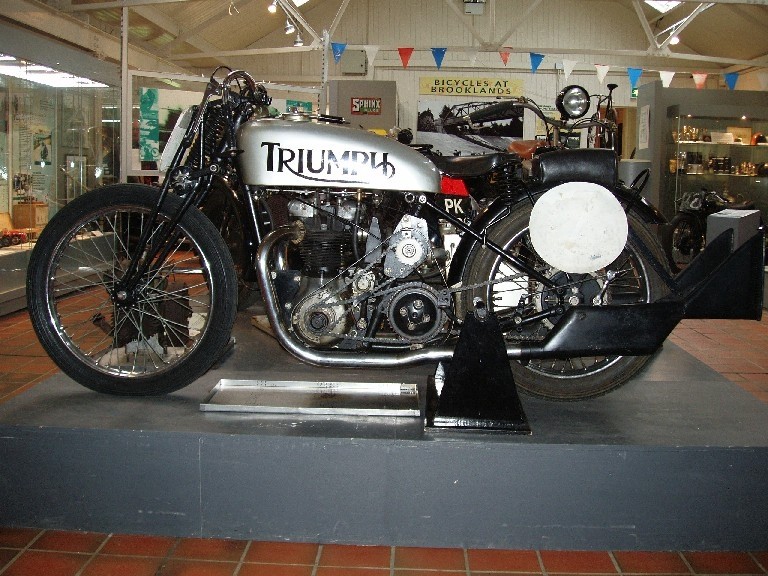 Ivan Wicksteed raised the 500 cc Outer Circuit record to 118.02 mph
on 8th october 1938* (Motor Cycle)
Brooklands 2010
STEEDS VERASSEND, ALTIJD DICHTBIJ
Sponsored by
Victrace Sitebuilding