It's Springtime.. Time to have a short ride out !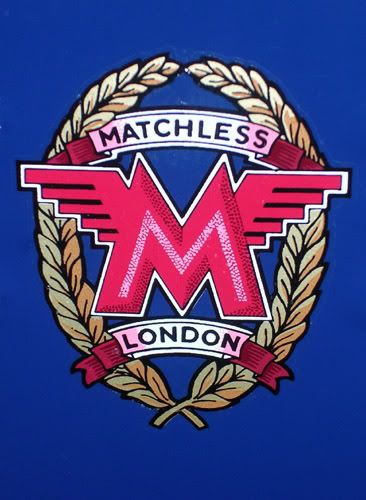 X Files :
:The Matchless Model X was a British Motorcycle launched in 1929. There were yearly modifications and in 1937 the Model X was completely redesigned as a fast touring motorcycle. Production ended on the outbreak of World War II in 1940.
Development:
The Matchless Model X was developed for V-Twin enthusiasts and had a specially reinforced rear frame for heavy-duty sidecar work. At the end of 1936 the Model X was upgraded and rebranded the Sports Tourist, with a shorter wheelbase frame which improved roadholding and steering. The Motor Cycle road tested the Model X in May 1937 and noted that the Matchless the steering was light but even when cruising at over 60 mph it did not become so light as to necessitate-use of the damper. Performance of the 990cc engine was described as 'delightful' and although not a sportster it was capable of 80 mph and could reach 70 mph from a standing start in a quarter of a mile.
Model X
Engine: 990 cc (85,5 x 85,5 mm bore and stroke) side-valve vee-twin
Tyres: 3.25 x 19 in front, 4.00 x 19 in rear, wired edge
Frame:Brazed-lug duplex tubular cradle, unsprung at rear
Front forks: Central spring girders
Brakes: Drums, 8 in diameter front and rear
Weight:435 lb
Wheelbase: 57 inch
Manufacturer:Matchless Motor Cycles (Colliers) Ltd, 44/45 Plumstead Road, London SE 18
X Files:
In the last few years before the outbreak of the Second World War, Brough-Superior had switched from JAP power units, to employ instead the 990 cc Matchless vee-twin — side-valve for the Brough-Superior SS80, overhead-valve for the SS100. Yet the odd thing was that Matchless themselves offered a very pleasant vee-twin tourer, with precisely the same engine as supplied to Brough-Superior and just as well-equipped. It was just that George Brough charged £9O for his SS80, while Matchless, without all the ballyhoo and razzmatazz of Brough salesmanship, listed their Model X at only £69 15s !

In fact the Matchless factory had been noted for big vee-twins since before the First World War, originally with engines by MAG or JAP, but by the mid-'thirties the Model X enjoyed a gently bovine engine designed and built on the Flumstead premises. It was 'designed for the big-twin enthusiast and, of course, with a special eye for heavy-duty sidecar work', to which end the 1936 version had been given more robust rear frame members.

However (as George Brough was aware), there were plenty of enthusiasts around who rather liked the idea of a big 'thousand', ridden solo, so at the end of the 1936 season the Model X was revamped and given the catalogue name of Sports Tourist, with a new shorter-wheelbase frame which put the machine on a par with a 500 cc single, as regards roadholding and steering.

The Motor Cycle road-tested the Model X in May 1937, and commented 'As soon as the machine is on the move the rider forgets that he is astride a heavyweight machine. The Matchless could be ridden feet-up at speeds well below the register of the speedometer without any juggling with the handlebars. At slightly higher speeds the steering was comfortably light, but even when the machine was being cruised at over 60 mph it did not become so light as to necessitate-use of the damper.

The excellent roadholding of the Matchless probably accounted to some extent for the effortless way in which it could be cornered. The big machine could be laid well over on fast corners without any sign of snaking or wandering On wet roads the Matchless was perfectly stable. Wet tramlines caused the rider no tremors, and on none of the slippery surfaces encountered was a skid experienced. On particularly greasy surfaces the steering tended to become rather light, but this was more a feeling than a fact, for the model never showed any tendency to get out of control.

Performance of the 990 cc engine was described as 'delightful', and it would accelerate hard in top gear without any trace of snatch from as low as 20 mph. Not really a speedster it would not be expected of a side-valve, anyway - it would clock up just over 80 mph, and reach 70 mph from a standing start in a quarter of a mile. Particular note was made of the prop-stand, which flew up immediately the bike was brought back to the vertical, a feature which is now compulsory on bikes sold in the USA.

Understandably, the Model X did not feature in competition work, for that was not its metier. Instead, it was a highly comforting machine, with a quiet heartbeat and a- gentle loping gait which ate up the miles effortlessly. As the 1937 tester put it, the bike 'comes into that aristocratic class of motorcycles that are riders' mounts'. Hear, hear to that!
Out of: 'Classic British Motorcycles Of Over 500cc' by Bob Currie
(Bronnen):
- Wikipedia & Manuk Lee
A Black Train

" The only X V-Twin man Left "
"X - Sports Tourer"
" GET YOUR KICKS ON A BIG MODEL X ! "
SO
STEEDS VERASSEND, ALTIJD DICHTBIJ
Sponsored by
Victrace Sitebuilding